Picture this: You are invited to a friend's wedding. You are single and not really looking for someone. You're good with being on your own. While enjoying the festivities, you strike up a conversation with another person who also feels a bit out of place among the multitude of couples. As the night progresses, so does your interest in this person. You muster up some nerve and ask them out for coffee. You are a tad surprised by your own excitement when they say "Hell yeah, that sounds fun."
Coffee turns to dinner, dinner leads to drinks and you are finding yourself blown away by how well you both connect. Then reality comes a knocking, this person who you want to know better, who you feel so in tune with, lives miles away from you. There is no doubt that you both want to continue to see each other, but how do you date someone who lives so far away? And the only question that needs to be asked and answered with all honesty: Are you able to deal with a long distance relationship?
There are numerous benefits and challenges with delving into a long distance romance. The list below will focus on 5 areas, which should be kept top of mind.
1. Technology
The use of technology will become a major player in your relationship. Texts, emails, Skype, twitter, Facebook, and of course, your phone, need to be in play. Even if you are not tech savvy, find a form of communication that you are both comfortable in using, and use it.
2. Consistency
Connect every day. Whether it is for five minutes or for two hours, make sure to touch base at some point during the day. For any relationship to survive, you need to communicate. Relationships, which have the additional complexity of distance, require a higher level of dedication, to ensure daily contact. A quick email, call or text saying, "Hello, I was thinking about you. I hope you are having a great day." speaks volumes to the other person.

3. Honesty
Honesty is paramount in any relationship. In a long distance one, honesty takes on various forms. Be honest with yourself, regarding your ability to stay faithful for weeks on end. Be honest with yourself regarding your ability to communicate everyday. And for the love of all things good, be honest with yourself on whether or not you wish to pursue this relationship. Communication is great, but if you are not honest and open with each other on your fears, and hopes, then stop playing games and end the relationship.
4. Intensity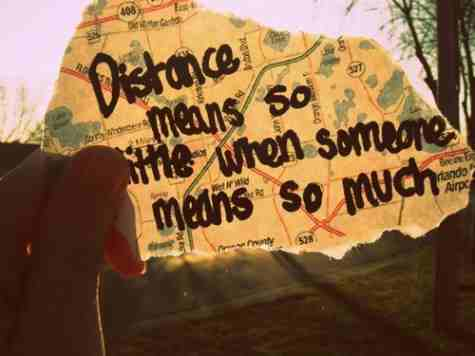 Distance can make the heart grow fonder. It also has the innate ability to send your libido into overdrive. While you may or may not act upon the intensity of those feelings, it is important that you understand them. You know how you feel about this person, and with each passing day away from each other those feelings can take on a life of their own. While at times you may feel overwhelmed, remember that it is the other person that is bringing this passion out in you. Save the intensity for them.
5. The Big Wow
From your built up intensity, it's a hop, skip and a jump to the big moment, the rock my world, oh, heck yes and I am ready! Whether intimacy takes place at the start or later on in the relationship, you need to remember that this person will have to leave the comfort of your embrace, and head back home. This is not the time to make the other person feel guilty for having to leave. This was a choice you both made and it will remain one of your biggest challenges, if you are not straightforward with each other.
A long distance relationship can be wonderful, strong and lasting, but it requires your dedication, commitment and desire to keep it going. What are some of your thoughts, when it comes to long distance love? Leave me a comment below.