Say what you want about the Pumpkin Spice Latte – also known as the PSL – but Starbucks is rolling in pumpkin-flavoured dough. The PSL is one of their most popular seasonal drinks and brings in the big bucks during the Fall and Christmas seasons. This year Starbucks launched the PSL a few days earlier, which caused a stir of both joy and distress. If you're ecstatic about the return of the PSL, you're in good company. Here are a few celebrities who are also fidgeting in their seats, waiting until they can rush home to their precious PSLs.
1. Katy Perry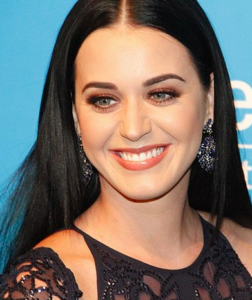 Katy may have been
sippin' gin and juice
in California Gurls, but she's all about that PSL now.  

2. Pete Wentz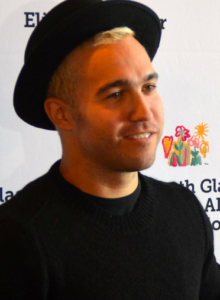 Looks like Pete Wentz just created the most unique club in the Fall (Out Boy) season…ha!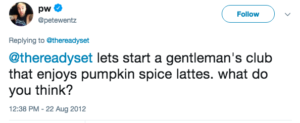 3. Ally Brooke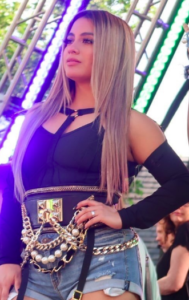 Maybe Lauren Jauregui was just jealous she didn't have a PSL too…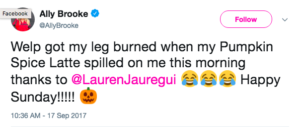 4. Ariel Winter's Pup Casper

Ariel treated her baby to the beloved PSL, which he lapped up in no time.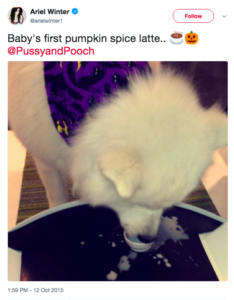 5. Kristin Cavallari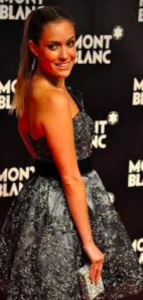 I wonder if Kristin and Lauren Conrad also feuded over their feeling for the PSL…

RELATED: Three Fall Beauty Trends
Brittany Snow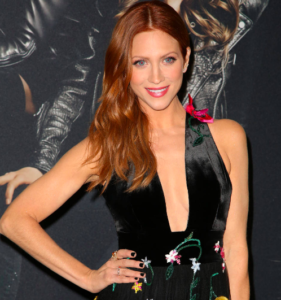 Maybe she can sing a song about the PSL in the next Pitch Perfect movie.