It's that time of year again! The time when people make outlandish New Year's resolutions they have no hope of keeping. As we slide into 2019, rather than pledging to go vegan cold turkey or  give up shopping altogether, why not make a more realistic resolution? Remember, lifestyle changes don't have to be drastic in order to make your life better! We've assembled seven excellent New Year's resolutions that will improve your life while also being manageable. You can thank us later. Here's to being a new you in the New Year!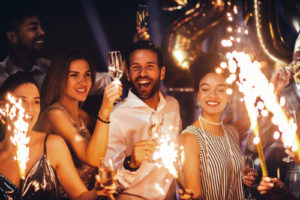 Learn To Code
Coding makes you a more employable person, and it also comes in handy when you're trying to build your own business. Coders can build and renovate websites, construct apps, and just generally brag about how tech-savvy they are. Of course, coding can feel intimidating, but it needn't be. Just turn to Code Academy, which is an online platform that provides coding tutorials in twelve different languages, including HTML. This is one New Year's resolution you can keep without even getting up off the couch!
Call Your Mom
It's a sad fact of life that our mothers won't be around forever. If you have a decent relationship with your mom, consider calling her more frequently in 2019. This will show her that you care, and maximizes your opportunities for bonding. Who knows what wisdom she might impart? Plus, she'll probably be thrilled to hear from you! Why not make it your resolution to call her at least twice a week for quality chats that last twenty minutes or more? You can use these talks as an opportunity to update her on your life, but also to ask your mom what she's up to. The truth is, your mother is probably a far cooler person than you realize! By the end of 2019, you and your mom could feel closer than ever!
Drink Less Coffee
Coffee is good in moderation. It can give you the extra kick we all need in the morning. However, when you're guzzling five espressos a day, it can result in anxiety and insomnia. Because caffeine stays in your system for around twelve hours, try limiting yourself to drinking coffee only in the AM. This will improve your quality of sleep, which will in turn improve your entire life! Try replacing your afternoon coffees with herbal teas! If you're desperate, you can even turn to green tea for a tinier caffeine boost than a cup of Joe gives you. If you follow through with this resolution, you'll leave 2019 feeling refreshed and rejuvenated!
Shop Less
Fast fashion is both terrible for the environment – and for your wallet. Rather than heading to H & M for a shopping spree each Saturday, try investing in only a few high quality garments a year. Better made pieces will last longer, and they'll probably feel better (Who wants polyester when they can have real cotton or even cashmere?). Remember, your closet doesn't need to be bursting to the brim! There's no need to have six almost identical little black dresses and twelve pairs of skinny jeans you bought on sale. A capsule wardrobe full of high-quality pieces will serve you better in the end.
Join A Book Club
Given the omnipresence of screens and our lack of work/life balance, finding time to read can feel impossible. That's why you should make the time by joining a Book Club. The peer pressure from your fellow members will force you to make the time to flip through a book, and that's just fabulous! Reading is a wonderful way to stay present in the moment. It's also educational and entertaining as hell! If you can't find a local book club to join, find a group of interesting people and assemble one yourself!
Download A New Dating App
It's easy to get disillusioned about dating, but don't! The truth is, dating is a numbers game. The more dates you go on, the more likely you are to find that special someone. So make it your New Year's resolution to expand your dating horizons by downloading a new app you've never tried before. Sick of receiving dick pics on Tinder? Why not try your luck on more relationship-focused apps, like Hinge or Coffee Meets Bagel? Hell, I met my future husband on OkCupid! My dating motto was, "Find the right app, and you'll find the right chap!" Of course, this motto can be modified if you're not attracted to men.
RELATED: Listen to You Do You: Eligible Magazine's Dating Podcast
Eat One Vegetarian Meal Every Day
We all know eating meat is terrible for the environment. Unfortunately, many of us are used to it, and it's delicious. Try to ease yourself into a more vegetarian diet by pledging to eat one meatless meal each day. You can still enjoy that rotisserie chicken for dinner, as long as you eat a vegetable stir fry for lunch! It's not a huge sacrifice, but even little lifestyle changes can be good for our planet.