Better Dating Ideas Los Angeles offers weekly tips for the best places for a date in your city. Check out our weekly postings for unique and romantic dates in LA.
Twilight Concerts – tUnE yArDs With Avid Dancer
This free concert series raps up a summer of fantastic music located on the always bustling Santa Monica Pier with the fantastic indie-pop group tUnE yArDs and Avid Dancer. Enjoy a cold brew in the beer garden located behind the beach seating and take in the fantastic view at one of California's most picturesque beaches.
Date: Thursday, September 10th, 7:00 p.m. – 10:00 p.m., 2015
santamonicapier.org/twilightconcerts
The Hungtington
Wander the 12 lush gardens, the libraries containing over 420,000 rare books, and the galleries with 650 works at this historic, once private, estate. While seeing everything in a day would be veritably impossible, seeing a lot is guaranteed – whatever your fancy.
Dates: Monday, Wednesday – Friday, 12:00 p.m. – 4:30 p.m., Saturday – Sunday, 10:30 a.m. – 4:30 p.m., 2015
Gallery 1988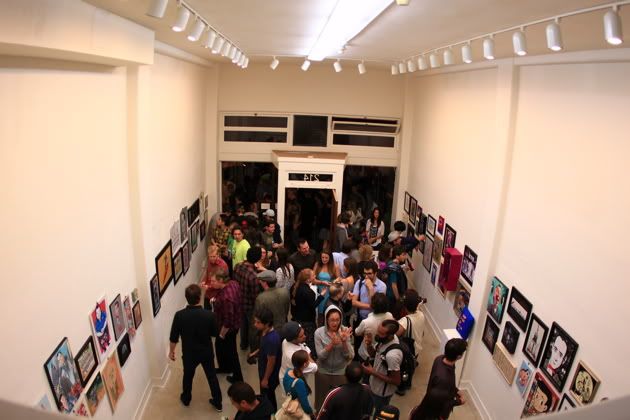 Check out one of North America's most talked about, pop-culture obsessed, and hip galleries: Gallery 1988. At two locations, both on Melrose Ave., Gallery 1988 has hosted exhibits dedicated to the works of Tom Hanks, the 1985 film and boardgame "Clue", Ghostbusters, and Adventure Time. Currently, East location is exhibiting "O Sew Nerdy", a collection of pop-culture cross stitches, and the West location launches its tribute to the work (and monsters) of Guillermo Del Toro Friday, September 11th, from 7:00 p.m. – 10:00 p.m.
Hours (both locations): Wednesday – Sunday, 11:00 a.m. – 6:00 p.m., 2015
Art Appetite – Taste of Art Walk
Featuring all of the delicious gourmet food truck wares your heart desires and amazing artisanal wares to peruse, as well as  the artistic organisation RAW: Natural Born Artists, this Art Walk's got it all.
Date: Thursday, September 10 11:48am – 11:48pm, 2015