Winter isn't coming anymore; it's already here! December in New York City is a magical time, full of endless possibilities for adventure. To ease your indecision, we've assembled three fabulous dating ideas to knock your socks off! You and your special someone are guaranteed to enjoy yourself at such stellar events.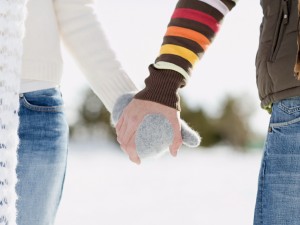 The 10th Annual Latke Festival 
Technically, this isn't a weekend event, but going out on a school night is worth it for the Latke Festival. Set to take place at the famed Brooklyn Museum on the evening of December 3rd, the fest will feature a bevy of New York's best latkes. We dare you to come up with a more delicious dating idea! Tickets cost $75 per person.
The New York City Botanical Train Show
Embrace your inner child at the NYC Botanical Train Show! At this magical exhibition, you and your boo can watch model trains travel through miniature versions of famous New York landmarks, like the Brooklyn Bridge and the Statue of Liberty. This year's showcase will pay special tribute to Lower Manhattan, the trendiest part of modern-day New York. As an added bonus, you'll also be surrounded by the garden's world-famous flowers the whole time! The event runs now through January 21t.
Glass Half Full: Upbeat Comedy For Downbeat Times
Nothing is sexier than laughter! After a stressful week, a night out at Gotham Comedy Club sounds like just the ticket! And you're in luck, because on Saturday, December 3rd, Gotham will be hosting "Glass Half Full," a night of comedians who see the sunny side of life – even when it's challenging. You'll hear jokes about sex, marriage, parenting and the idiosyncrasies of modern life from renowned comedians Alex Barnett, Dan Enfield, and Max Neuman. Tickets are an affordable $15 per person, and the door time is 10:15.